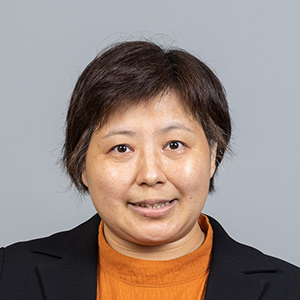 COM2-03-25
660 17664

LIU Lili
Lecturer (Educator Track)
Ph.D., Nanyang Technological University
Liu Lili received her Ph.D. degree from Nanyang Technological University, and her Master of Computer Science degree from Shanghai University. Before joining NUS, she worked as a Senior Research Scientist at Singapore Polytechnic and as a scientist in the Institute of High-Performance Computing, A*STAR. Her technical knowledge and experience lies in various areas, including Machine Learning, Computer Vision and Multi-Modal Learning. Her research interests are in the areas of deep learning, computer vision, multi-modal learning, text analysis and quantitative research.
RESEARCH INTERESTS
Machine learning

Computer Vision

Multi-modal Learning
SELECTED PUBLICATIONS
Liu, Lili, et al. "Transfer learning on convolutional activation feature as applied to a building quality assessment robot." International Journal of Advanced Robotic Systems 14.3 (2017): 1729881417712620.

Liu, Lili, et al. "AI-facilitated coating corrosion assessment system for productivity enhancement." 2018 13th IEEE Conference on Industrial Electronics and Applications (ICIEA). IEEE, 2018.

Luo, Zhiqiang, et al. ""Left Arm Up!" Interactive Yoga Training in Virtual Environment." 2011 IEEE virtual reality conference. IEEE, 2011.

Liu, Lili, et al. "Interactive robots as social partner for communication care." 2014 IEEE International Conference on Robotics and Automation (ICRA). IEEE, 2014.

Liu, Lili, et al. "Automated construction quality assessment: A review." 2015 10th International Symposium on Mechatronics and its Applications (ISMA). IEEE, 2015.

Liu, Lili, et al. "CNN-based automatic coating inspection system." Advances in Science, Technology and Engineering Systems Journal 3.12 (2018): 469-478.

Liu, Lili, et al. "An integrated coating inspection system for marine and offshore corrosion management." 2018 15th International Conference on Control, Automation, Robotics and Vision (ICARCV). IEEE, 2018.

Liu, Lili, et al. "Deep learning for Coating Condition Assessment with Active perception." Proceedings of the 2019 3rd High Performance Computing and Cluster Technologies Conference. 2019.

Lili, Liu, et al. "AI-Based Behavioral Competency Assessment Tool to Enhance Navigational Safety." 2021 International Conference on Electrical, Computer, Communications and Mechatronics Engineering (ICECCME). IEEE, 2021.