Background
In this project, our clients are NUSCARES, Care Corner Counselling Centre, Care Corner Centre for Co-parenting and SAGE Counselling Centre.
NUSCARES is an initiative spearheaded by undergraduates from NUS School of Medicine which aims to provide befriending and some medical services to people in the community. The profile of the befriendees ranges from elderlies with medical conditions to people from hospices. Currently, there are two befriending projects under NUS CARES and namely, Project Happy Apples and Project Trigen.
Care Corner Counselling Centre (CCCC), formerly named Care Corner Mandarin Counselling Centre (CCMCC) and even earlier as 800 Counselling Centre, began its operations in 1985 providing telephone counselling services. Since then, the centre has evolved into a professional and integrative social service network providing counselling, friendship and advice to individuals and families in need.
The core services provided by the centre include Psychotherapy and Counselling, and Hotline Counselling which are supported by a team of professional and experienced practitioners. Aside from counselling, the Centre also conducts family life education programmes to promote personal growth, family integration and stronger interpersonal relationships. The centre also provides training and consultation for students who are pursuing an education in counselling, or to organisations looking to enhance the effectiveness of their clinical work. Lastly, CCCC also offers personality tests and assessments for individuals seeking to learn more about themselves.
Corner Centre for Co-parenting (CCP) which is part of CCCC, is among one of the four Divorce Support Specialist Agencies appointed by the Ministry of Social and Family Development (MSF) to provide divorce support services to divorcing and divorced parents with children below 21 years old. CCP serves clients from all parts of Singapore, and we offer a range of support programmes for divorcing and divorced families. These forms of support serve as a kind of adjunct support during the transition of divorce and post divorce.
CCP's mission is to promote the well-being of parents and children in divorce situations by encouraging the parents to adopt a child-centric approach in resolving conflicts.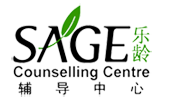 Established in 1991, SAGE Counselling Centre (SAGE) is a non-religious, non-profit organization. SAGE aims "to enhance the total well-being of the older persons and their caregivers with a special focus on the psychological and social aspects of their health" and "to promote the well-being of older persons by listening & responding appropriately to their concerns and needs".
There are 3 levels of services provided by SAGE Counselling Centre: Clinical level, Preventive level and Community level. At the clinical level, they provide individual & group counselling, expressive therapy, case management, and referral. At the preventive level, they will conduct public educational talks, workshops and seminars in community facilities to create self-awareness which in turn promote self-care and mental wellness of seniors. And lastly, at the community level, they participate in community & nation-wide activities & collaborate with other social service sector partners which work with the older generation.
Project Objectives
There were 2 main parts for this project. The first involves NUSCARES while the second involves the Case Management System (CMS) that is used by CCCC.
Since NUSCARES started its operation, it has been using Microsoft Excel and WhatsApp groups to organise and facilitate its befriending programmes. As the operations in NUSCARES continue to grow, such a workflow is becoming unsustainable. Hence, the first objective of this project was to build a new system for NUSCARES.

The CMS has been built and used by CCCC since 2015. Since then, certain workflows and requirements by CCCC has changed. In addition, other counselling centres such as CCP and SAGE has requested to be able to use the CMS. As such, 2 objectives were set to meet their needs:

Work out the differences between the 3 centres (CCCC, CCP and SAGE). The 3 centres differ significantly in terms of their case types, sessions and the reports that they use. Hence, it is crucial to tweak the system carefully so that the CMS can cater to their individual needs.

Implement and design new features. In addition to sorting out the differences, we also worked towards pushing new features that can be used by all 3 centres. A notable feature that was published was the Events module, allowing the centres to record and track recurring events that they have.
Project Process
Requirement study
During the phase of the project, we met with the staff from different organisations. For NUSCARES, this meeting is essential to know exactly what they require in the new system. In addition, meetings were also conducted with staff from CCCC, CCP and SAGE. Through these meetings, we gained a greater understanding of the different requirements that are needed. This is crucial as we would need to integrate all these differences in a single system.
Development
There were 2 main phases during development: NUSCARES's new system and CMS.
The development phase started off with developing the basic core features that are needed by NUSCARES in their befriending programmes.
After the basic features were done, the team is split into 2. Members from the first team will continue to work on NUSCARES, adding more features and polishing up the system. The members from the second team will work on CMS for CCCC, CCP and SAGE.
Data Migration, Testing and Deployment
Data were then migrated into their respective systems for NUSCARES, CCP and SAGE. After data migrations were done, staging servers were deployed for all the centres to try out their new system. Feedbacks and bugs were gathered and we started ironing these out to prepare for the actual deployment.
Currently, a live version of NUSCARES system is up and running, and is being used by the current NUSCARES's team.
As for CMS, a patch was rolled out for CCCC to upgrade their existing system. For CCP, the CMS is hosted in a server at their centre. And lastly, for Sage, the CMS will be deployed later this year, after Sage's server is ready.
Screenshots
Data & numbers are censored
Project Team
Tan Zheng Wei (Project Lead, Year 2)
Mak Qi En (Developer, Year 4)
William Jiang (Developer, Year 2)
Julius Sander (Developer, Year 1)
Koh Jun Wei (Developer, Year 1)
Daniel Lau Yew En (Developer, Year 0)
Afterthoughts
CVWO has been an enriching journey for all of us. It forces us to take a step out of our comfort zones and tackle challenges that we have never encountered before, which makes us grow in turn. Personally, I feel that this has made me learn a great deal, not just in software development, but also the soft skills required to communicate with my team and our clients.

– Tan Zheng Wei
CVWO provides an avenue for students to work on meaningful software engineering projects that benefit the community and I am thankful for the opportunity to play a part in this worthwhile cause.

– Mak Qi En
CVWO was a painful but enriching learning experience, especially for a non-CS major. CVWO gave me the confidence of tackling software projects on my own and I would definitely recommend this to others who want to try their hand at web development.

– William Jiang
It was a great experience with great friends!

– Julius Sander
I am grateful for this opportunity given to join CVWO. The experiences gained from working in a real software engineering project has been very insightful.

– Koh Jun Wei
It was an interesting and fun experience to learn various languages and applying them so rapidly. Really grateful for this wonderful experience.

– Daniel Lau Yew En
We would like to express our heartfelt gratitude to the following people who have been influential and supportive during our project:
Prof Ben Leong (NUS) for his patient guidance.
Staff from NUSCARES, CCCC, CCP and SAGE for their co-operation and support throughout the project.
GIC for their generous support for the programme.