Abstract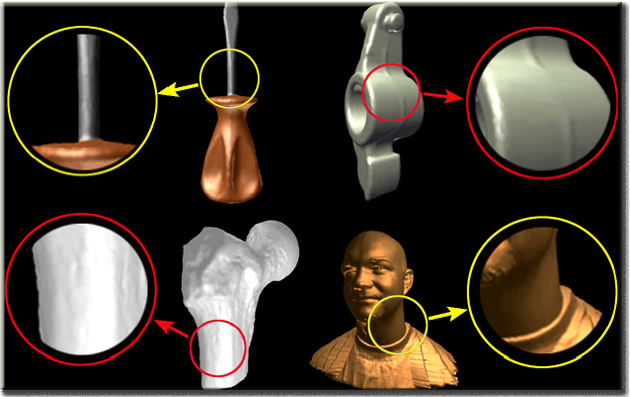 Hybrid point and line segment models rendered by our method.
---
Bridging the modelling and rendering gap between the existing triangle and point primitives, we explore the use of line segments as a new primitive to represent and render 3D models. Our main contribution extends the anti-aliasing theory in texture mapping to anti-aliased line segment rendering, and presents an approximation algorithm to render high quality anti-aliased opaque and transparent line segments in 3D models. This anti-aliasing technique is empirically validated by building a software pipeline to render models of any combination of the three types of surface primitives: triangles, line segments and points. Experiments show that models comprising line segments are potentially efficient and effective for high quality rendering as compared to their corresponding pure point models.
Keywords: Rendering Systems, Point-based Graphics, Surface Reconstruction, Object Scanning/Acquisition, Level of Details.
Technical report: Rendering Anti-Aliased Line Segments - May 2004
Paper: Rendering Anti-Aliased Line Segments - June 2005, in the Proceedings of the 2005 Computer Graphics International, 22-24 June, Stony Brook, New York, USA, pp. 198--205, pp. 277.
---