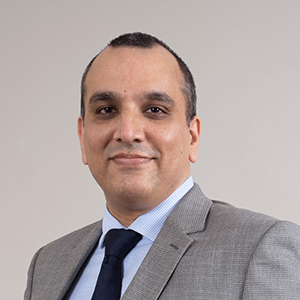 COM2-03-22
651 62990

https://www.comp.nus.edu.sg/~anand
Anand Mohan RAMCHAND
Senior Lecturer (Educator Track)
Ph.D. (Information Systems, National University of Singapore)
M.Sc. (Information Systems, National University of Singapore)
B.Sc. (Computer Science & Information Systems, Honours, National University of Singapore)
Dr. Anand Ramchand is a Senior Lecturer and Assistant Dean (Corporate Relations) at the School of Computing (SOC) at the National University of Singapore (NUS). He received his Ph.D in Information Systems in 2012 at NUS, and holds an M.Sc in Information Systems (2004) and B.Sc (Hons) in Computer Science and Information Systems (2001) from NUS. Dr. Ramchand's primary teaching and research interests are in the digital transformation of organizations, business model innovation driven by computing and information technologies, and the digital enablement of social change. Since joining the department in 2001, Dr. Ramchand has received 10 teaching awards at the Faculty and University levels, and was placed on the NUS Teaching Excellence Honour Roll from 2011 to 2016.
SELECTED PUBLICATIONS
Ramchand, A. and Leong, ML. 2013. "Healthway Medical Group's Clinical Management System", in Pan, G. ed.Dynamics of Governing IT Innovation in Singapore: A Casebook, World Scientific Publishing, Singapore.

Ramchand, A. and Pan, SL. 2012. "The Co-Evolution of Communities of Practice and Knowledge Management in Organizations",The Data Base for Advances in Information Systems, Vol. 43 1, pp. 8-23.

Teoh, SY., Pan, SL. and Ramchand, A. 2012. "Resource Management Activities in Healthcare Information Systems: A Process Perspective",Information Systems Frontiers,Vol. 14 3, pp. 585-600.

Ramchand, A. and Pan, SL. 2008. "Beyond Mobile Communications - Ubiquitous Information Environments in Singapore", in Yoo YJ., Lee JN. and Rowley, C. eds.Trends in Mobile Technology and Business in the Asia-Pacific Region, Chandos Publishing, Oxford.

Ramchand, A., Devadoss, P. and Pan, SL. 2005. "The Impacts of Ubiquitous Computing Technologies on Business Process Design and Management: The Case of Singapore's National Library Board", in theProceedings for the International Federation For Information Processing Working Group 8.2 IFIP WG8.2, 1-3 August, Cleveland, OH.

Ramchand, A. 2004. "NCS Private Limited, Singapore", in Pan, SL ed.Managing Strategic Enterprise Systems and E-Government Initiatives in Asia: A Casebook, pp. 21-44, World Scientific Publishing, Singapore.
MODULES TAUGHT
IS3240
Digital Platform Strategy and Architecture
IT3010
Data Management for Business Analytics