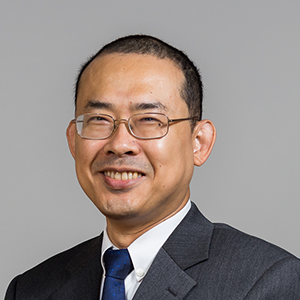 AS6-05-14
651 64463

https://www.comp.nus.edu.sg/~ooiwt
OOI Wei Tsang
Associate Professor
Ph.D. (Computer Science, Cornell University, 2001)
B.Sc. (Computer & Information Sciences, National University of Singapore, 1996)
Wei Tsang received his B.Sc. (Hon.) degree in 1996 from the Department of Information Systems and Computer Science at NUS (now NUS Computing), and his Ph.D. in Computer Science from Cornell University, Ithaca, New York, in 2001. He spent a year as a postdoc fellow at Berkeley Multimedia Research Center in U.C. Berkeley after the completion of his Ph.D., before returning to join NUS Computing as a faculty member. Wei Tsang's research interests fall under the general area of interactive and networked multimedia applications. His current research focuses on volumetric video streaming, networked virtual environments, and cloud gaming systems. He is also keen in building multimedia and intelligent systems that contribute to better wellness and healthcare for all.
RESEARCH AREAS
Human-Computer Interaction
Multimedia Analytics
Multimedia Systems
Transportation & Logistics Algorithms
Machine Learning
Computer Vision
RESEARCH INTERESTS
Interactive Media Streaming

Computer Networking and Distributed Systems

Multimedia Middleware and Applications

Networked Virtual Environments

Multimedia Systems

Edge AI

Human-AI Interaction
SELECTED PUBLICATIONS
Praveen Kumar Yadav, Arash Shafiei, and Wei Tsang Ooi. 2017. QUETRA: A Queuing Theory Approach to DASH Rate Adaptation. In Proceedings of the 25th ACM international conference on Multimedia (MM '17). Association for Computing Machinery, New York, NY, USA, 1130–1138.

Shanghong Zhao, Wei Tsang Ooi, Axel Carlier, Géraldine Morin, Vincent Charvillat:Bandwidth adaptation for 3D mesh preview streaming. TOMCCAP 101s: 13:1-13:20 2014

Zhen Wei Zhao, Sameer Samarth, Wei Tsang Ooi:Modeling the effect of user interactions on mesh-based P2P VoD streaming systems. TOMCCAP 92: 13:1-13:22 2013

Mukesh Kumar Saini, Raghudeep Gadde, Shuicheng Yan, Wei Tsang Ooi:MoViMash: online mobile video mashup. ACM Multimedia 2012: 139-148

Praveen Kumar Yadav and Wei Tsang Ooi. 2020. Tile Rate Allocation for 360-Degree Tiled Adaptive Video Streaming. In Proceedings of the 28th ACM International Conference on Multimedia (MM '20). Association for Computing Machinery, New York, NY, USA, 3724–3733.

Praveen Kumar Yadav, Abdelhak Bentaleb, May Lim, Junyi Huang, Wei Tsang Ooi, and Roger Zimmermann. 2021. Playing chunk-transferred DASH segments at low latency with QLive. In Proceedings of the 12th ACM Multimedia Systems Conference (MMSys '21). Association for Computing Machinery, New York, NY, USA, 51–64.
AWARDS & HONOURS
School of Computing Teaching Excellence Award, 2015, 2013, 2012, 2008, 2006

National University of Singapore Annual Teaching Excellence Award 2008

DASH-IF Excellence in DASH Award (Runner Up), ACM MMSys 2021

Best Demo, ACM Multimedia 2013

ACM TOMCCAP Nicolas D. Georganas Best Paper Award 2011

Best Paper, ACM Multimedia 2008
MODULES TAUGHT
CS1010
Programming Methodology
CS2030S
Programming Methodology II