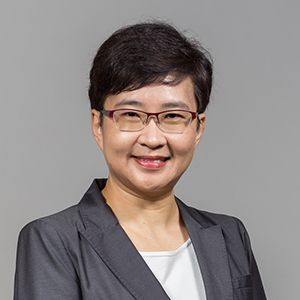 LEONG Tze Yun
Professor (Practice)
Ph.D. (Electrical Engineering & Computer Science, Massachusetts Institute of Technology, Cambridge, MA, USA)
S.M. (Electrical Engineering & Computer Science, Massachusetts Institute of Technology, Cambridge, MA, USA)
S.B. (Computer Science & Engineering, Massachusetts Institute of Technology, Cambridge, MA, USA)
COM2-03-53
651 66519

http://www.comp.nus.edu.sg/~leongty
Research Interests
Decision-theoretic Artificial Intelligence
Machine Learning
Biomedical and Health Informatics
Temporal Probabilistic Reasoning
Profile
LEONG Tze Yun is Professor of Practice of Computer Science at the School of Computing, National University of Singapore. She directs the Medical Computing Laboratory at the School. She is also Director of AI Technology at AI Singapore (www.aisingapore.org) Tze Yun received her SB, SM, and PhD degrees in Electrical Engineering and Computer Science from the Massachusetts Institute of Technology (MIT), USA. Her research interests include decision-theoretic artificial intelligence, cognitive modeling, machine learning, adaptive computing and biomedical and health informatics. She has over 150 publications in international peer-reviewed journals and conferences. She has served on editorial boards and program committees of leading international journals and conferences in artificial intelligence and biomedical informatics. She is an elected Fellow of the American College of Medical Informatics (ACMI) and a founding Member of the International Academy of Health Sciences Informatics (IAHSI). Tze Yun is also a technopreneur and participates in the technology start-ups ecosystem. With both academic background and business experience, she has contributed to panels and committees that advice on R&D directions and education in Computer Science, Artificial Intelligence and Health Informatics in Singapore and abroad. She recently served as Member of the Working Committee on Research and Technology of the Information and Communication Technology and Media Master Plan 2025 in Singapore (2013-2015); Vice President overseeing the working groups and special interest groups of the International Medical Informatics Association (IMIA) (2013-2016) and Advisory Board Member of the United Nations University Institute for Computing and Society (UNU-CS) (2012-2016).
Current Projects
Model-Based Reinforcement Learning – Transfer and Hierarchical Learning
Learning and planning with real-world data
Representing and managing change with context-sensitive reasoning
Active, hierarchical, and transfer learning in reinforcement learning
Representation discovery from deep neural networks
Application foci: Biomedical and health informatics, game Artificial Intelligence, general Artificial Intelligence, robot planning in assistive care and personalized learning.
Selected Publications
AI – Representation, Learning, and Decision Making

Nguyen TT, Silander T, Li Z, Leong T-Y. Scalable transfer learning in heterogeneous, dynamic environments. Artificial Intelligence. Vol 247, June 2017, Pages 70-94. http://dx.doi.org/10.1016/j.artint.2015.09.013

Li Z, Narayan A, Leong T-Y. An efficient approach to model-based hierarchical reinforcement learning. Proceedings of the Thirty-First AAAI Conference on Artificial Intelligence (AAAI-17); 4-9 Feb 2017; San Francisco, CA, USA. 2017.

Nguyen Dinh TH, Silander TV, Lee W-S, Leong T-Y. Bootstrapping simulation-based algorithms with a suboptimal policy. Proceedings of the 24th International Conference on Automated Planning and Scheduling (ICAPS 2014); June 21-26; Portsmouth, USA. 2014. p. 181-89.

Biomedical and Health Informatics

Pillai PS, Lei F, Leong TY, Knowledge-Driven Interpretation of Multi-view Data in Medicine. In: Proceedings of Medical Informatics Europe (MIE 2018); (to appear)

Pillai PS, Leong TY, Alzheimer's Disease Neuroimaging Initiative. Fusing heterogeneous data for Alzheimer's disease classification. Stud Health Technol Inform. 2015;216:731-5

Su B, Dinh TA, Ambastha AK, Silander TV, Lu S, Pang BC, Lim CCT, Lee CK, Leong T-Y, Tan CL. Automated predication of Glasgow outcome scale for traumatic brain injury. Proceedings of the 22nd International Conference on Pattern Recognition (ICPR 2014); 24-28 August; Stockholm, Sweden. 2014.

Dinh TA, Silander TV, Su B, Gong T, Pang BC, Lim CCT, Lee CK, Tan CL, Leong T-Y. Unsupervised medical image classification by combining case-based classifiers. Stud Health Technol Inform. 2013;192:739-43

Research Directions and Policies

Leong T-Y. Toward a collaborative ai framework for assistive dementia care. Proceedings of the AAAI Joint Workshop on Health Intelligence (W3PHIAI'17) - co-located with the 31st AAAI Conference on Artificial Intelligence (AAAI -17); 4-5 February 2017; San Francisco, CA, USA. 2017.

Haux R, Kulikowski CA, Bakken S, de Lusignan S, Kimura M, Koch S, Mantas J, Maojo V, Marschollek M, Martin-Sanchez F, Moen A, Park HA, Sarkar IN, Leong TY, McCray AT. Research strategies for biomedical and health informatics. Some thought-provoking and critical proposals to encourage scientific debate on the nature of good research in medical informatics. Methods of Information in Medicine. 2017;56(Open):e1-e10. 10.3414/ME16-01-0125
Awards & Honours
Founding Member, International Academy of Health Sciences Informatics (IAHSI)
Fellow (International), American College of Medical Informatics (ACMI)
Member, Eta Kappa Nu (Honor Society for Electrical Engineers)