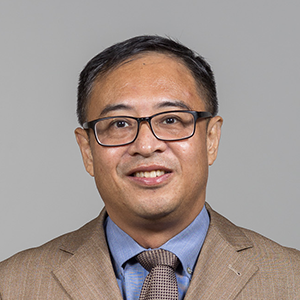 AS6-05-11
651 61170

https://www.comp.nus.edu.sg/~huangzy
HUANG Zhiyong
Associate Professor (Practice Track)
Deputy Director, NUS Business Analytics Centre (BAC)
Director, Computing Translational Research & Development (C-TReND) Centre
Assistant Dean, Industry Relations
Ph.D. (Computer Science, École Polytechnique Fédérale de Lausanne, 1997)
M.Eng. (Computer Engineering, Tsinghua University, 1988)
B.Eng. (Computer Engineering, Tsinghua University, 1986)
Zhiyong is Associate Professor (Practice), Assistant Dean (Industry Relations), Director (C-TReND) and Deputy Director (NUS BAC). He teaches modules in 3D modeling and animation and programming methodology. He had been working as a Senior Scientist in Institute for Infocomm Research, A*STAR since 2007, where he had served various roles including Senior Manager, Strategic Capability Development and Industry Development, Co-Principal Investigator, SERC Industrial Robotics Programme, Department Head, Computer Graphics and Interface, and Programme Manager of SERC Human Factor Engineering. Zhiyong is a Senior Member of ACM and IEEE, and a Pioneer Member of ACM SIGGRAPH and Chair of Singapore ACM SIGGRAPH Chapter.
RESEARCH INTERESTS
Computer Graphics and Multimedia

Human Computer/Robot Interface

Data Analytics and Machine Learning
SELECTED PUBLICATIONS
Li R., Huang Z., Kurniawan E., Ho C. K., AuRoSS: an Autonomous Robotic Shelf Scanning System, Regular Paper, IEEE International Conference on Intelligent Robots and Systems IROS, 2015.

Tee K. P., Yan R., Chua Y.W., Huang Z., and Liemhetcharat S., Gesture-Based Attention Direction for a Telepresence Robot: Design and Experimental Study, IEEE International Conference on Intelligent Robots and Systems IROS, 2014.

Gao M.C., Thanh T C., Nanjappa A., Tan S T., Huang Z.: gHull: A GPU algorithm for 3D convex hull. ACM Trans. Math. Softw. 401: 3 2013.

Gupta R., Chia A. Y. S. Rajan D., Ng E.S., Huang Z., Image Colorization Using Similar Images, 20th ACM international conference on Multimedia, ACM Mulmedia 2012, pp. 369-378.

Huang Z., Jensen C. S., Lu H., andOoiB. C., Skyline queries against mobile lightweight devices in MANETs,The 22nd International Conference on Data Engineering ICDE 2006:66.

Zhang H., Huang W., Huang Z., Li L., Affine Object Tracking with Kernel-based Spatial-Color Representation , IEEE Conf. on Computer Vision and Pattern Recognition CVPR 2005, I, pp. 293-300.

Shou L., Huang Z., Tan K.-L., The Hierarchical Degree-of-Visibility Tree , IEEE Transactions on Knowledge and Data Engineering, IEEE CS, Vol. 16, No. 11, Nov. 2004, pp. 1357-1369.

Li X., Woon T. W., Tan T. S., and Huang Z., Decomposing Polygon Meshes for Interactive Applications. ACM SIGGRAPH Symposium on Interactive 3D Graphics and Games i3D, 2013, pp.35-42, pp. 243.
AWARDS & HONOURS
FINALIST of World Technology Summit & Awards (Entertainment), 2010.

Bronze, National Science and Technology Progress Award, 1992.

Tsinghua 12.9 Distinguished Young Teacher Award, 1989.
MODULES TAUGHT
NN3880
ATAP/SIP Coordinator