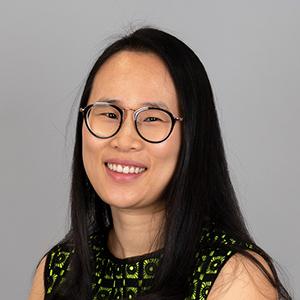 Angela YAO
Assistant Professor
Ph.D. (ETH Zurich, Switzerland, 2012)
M.Sc. (ETH Zurich, Switzerland, 2008)
B.A.Sc. (Engineering Science, University of Toronto, Canada, 2006)
COM1-03-06
660 17948

https://sites.google.com/comp.nus.edu.sg/cvml
Research Areas
Artificial Intelligence
Media
Research Interests
Computer Vision
Machine Learning
Profile
I am an Assistant Professor in Computer Science at the School of Computing since 2018, where I lead the Computer Vision and Machine Learning group. My students and I develop algorithms for automated interpretation of images and video. We work on topics ranging from segmentation, pose estimation, to video understanding. Before coming to NUS, I was a junior professor at the University of Bonn, Germany. I received my PhD in 2012 from ETH Zurich.
Current Projects
Efficient Modelling and Learning for Video Understanding
3D Hand Pose Estimation
Interactive Segmentation
Awards & Honours
NRF Fellowship for Artificial Intelligence, 2019
German Pattern Recognition (DAGM) Award, 2018.
Teaching (2020/2021)
CS4243: Computer Vision and Pattern Recognition
CS5242: Neural Networks and Deep Learning