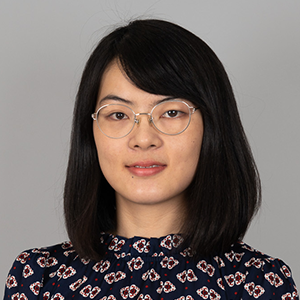 COM2-04-15
660 13789

QIAO Dandan
Assistant Professor
Ph.D. (Tsinghua University)
B.S. (Beijing University of Posts and Telecommunications)
QIAO Dandan is an assistant professor in the Department of Information Systems and Analytics at the National University of Singapore (NUS). Prior to joining NUS, She earned her Ph.D in Information Systems from Tsinghua University and also visited University of Texas at Austin for two years. Her research interests lie in the intersection of information systems, behavioural science, and data mining. Her work focuses to explore interesting behaviour patterns and extract valuable crowd wisdom from online UGC, in the aim of providing guidelines for information system design. She also studies darkweb economies to decipher the mechanism of online illegal transactions and cyber-crime.
RESEARCH INTERESTS
Economics of Information Systems

Economics of Dark Web

Online Altruism and Crowd Wisdom

Competitive Intelligence and Predictive Analytics
SELECTED PUBLICATIONS
Qiao, D., Rui, H. (2022). Text Performance on Vine Stage? The Effect of Incentive on Product Review Text Quality. Information Systems Research. Forthcoming.

Wang, L., Zhang, J., Chen, G., & Qiao, D. (2021). Identifying comparable entities with indirectly associative relations and word embeddings from web search logs. Decision Support Systems, 141, 113465.

Qiao, D., Lee, S. Y., Whinston, A. B., & Wei, Q. (2021). Mitigating the Adverse Effect of Monetary Incentives on Voluntary Contributions Online. Journal of Management Information Systems, 38(1), 82-107.

Qiao, D., Lee, S. Y., Whinston, A. B., & Wei, Q. (2020). Financial incentives dampen altruism in online prosocial contributions: A study of online reviews. Information Systems Research, 31(4), 1361-1375.

Guo, X., Wei, Q., Chen, G., Zhang, J., & Qiao, D. (2017). Extracting Representative Information on Intra-Organizational Blogging Platforms. MIS Quarterly, 41(4), 1105-1127.

Wei, Q., Qiao, D., Zhang, J., Chen, G., & Guo, X. (2016). A novel bipartite graph based competitiveness degree analysis from query logs. ACM Transactions on Knowledge Discovery from Data (TKDD), 11(2), 1-25.
MODULES TAUGHT
BT4014
Analytics Driven Design of Adaptive Systems
BT4222
Mining Web Data for Business Insights