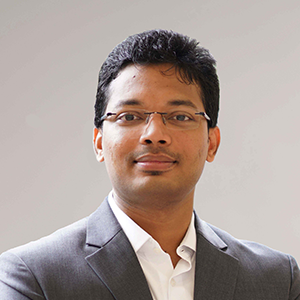 COM3-02-39
651 64091

Varun KARAMSHETTY
Assistant Professor
Ph.D. in Technology and Operations Management, INSEAD
BS and MS in Applied Mathematics, Indian Institute of Science Education and Research, Pune, India
Varun Karamshetty is an Assistant Professor in the Department of Information Systems and Analytics at the School of Computing, National University of Singapore (NUS). Varun received his PhD in Technology and Operations Management from INSEAD and Master's degree in Applied Mathematics from the Indian Institute of Science Education and Research, Pune. Varun's research tackles problems at the intersection of Information Systems (IS) and Operations Management (OM), with a special emphasis on topics related to sustainability and social impact. He works closely with firms across various sectors (F&B, public utilities, pharmaceuticals and e-commerce platforms) in APAC, Europe and UK. In his work, Varun uses econometrics and machine learning techniques on proprietary data to tease out causal relationships and derive managerial insights.
RESEARCH INTERESTS
Applied Econometrics

RCTs and Field Experiments
SELECTED PUBLICATIONS
Karamshetty, Varun, et al. "Inventory management practices in private healthcare facilities in Nairobi county."Production and Operations Management2021.
MODULES TAUGHT
BT2101
Econometrics Modeling for Business Analytics
IS5003
Platform Design and Economy